Year 7 Trip To Lille
---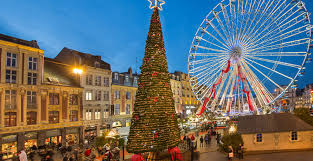 Year 7 - French Trip
Year 7 had a fantastic day in Lille yesterday!! (17th December 2019)
They all showed great character throughout the day developing their curiosity and open-mindedness as they delved into part of French culture!! The students visited the Lille Christmas Market and many took a ride on the festive big wheel!
After the market students also enjoyed the Planetarium in the Science Museum where they got to observe the sky,stars and the moon as well as find out more about our universe.
Students were a credit to the school - passport control even took time to tell us that our students were the politest students they had ever met!!! Well done all Year 7 and for the staff who attended!
A special mention must also go to Mrs Lawton for taking the time to organise such a fantastic day!